A Tip From Kinetic Computer Services ...
Excessive Low Toner Warnings on Brother Laser Printers, Multi-Function Centers, and Copiers
Description of the Problem
You own a Brother laser printer, copier, or multi-function machine that chronically displays a low toner warning and stops printing, when you know that the toner cartridge should not be near the end of its useful life. You believe that you are replacing toner cartridges more frequently than you should.
This problem has been observed on the following Brother product families:
DCP-1000
DCP-8020
DCP-8040
DCP-9040

HL-1650
HL-1670
HL-1850
HL-1870
HL-2030
HL-4040
HL-4070
HL-5040
HL-5050
HL-5070
HL-5140
HL-5150
HL-5170
HL-5250
HL-8420

MFC-8220
MFC-8420
MFC-8440
MFC-8640
MFC-8820
MFC-8840
MFC-9440
MFC-9450
MFC-9840

Cause
Many Brother laser printers, all-in-ones, and copiers and their matching toner cartridges have a sensor that is meant to indicate that the toner in the cartridge is running low. The sensor tends to give a low reading even when the cartridge has plenty of good-quality prints left.
Solution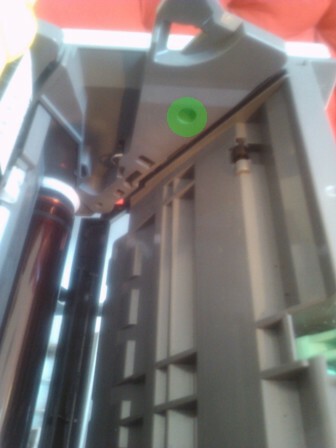 Toner sensor hole on the Brother MFC-9840CDW (in green)
The low toner warning on the printer can be bypassed by blocking the line of sight between the sensor on the cartridge and the sensor in the machine. A small square of black electrical tape over one or both sensors usually works very well.
The toner sensor is about 3/8" in diameter and is on the right side of the toner cartridge (the side with the gears is the left side). Find it, then look for a matching hole in the printer, where the toner cartridge fits. Place a piece of black electrical tape over this hole. With a color device, there will be four holes - one for each cartridge. Each hole must be covered. If you cannot find or reach the holes in the printer, you can tape over the sensor on the cartridge instead (of course, you must remember to do this every time you change cartridges).
Many users have reported being able to print hundreds, even a thousand or more high-quality pages from the same cartridge after covering the sensor. When the print quality begins to suffer, either from faint areas, streaks, smudges, or areas of low contrast, it is time to change the cartridge.
David Carson
Posted on September 9, 2011
© Copyright Kinetic Computer Services
This tip is a free service of Kinetic Computer Services - professional network consultants serving the Houston area since 1998.
Reproduction of this document without the author's consent is prohibited.