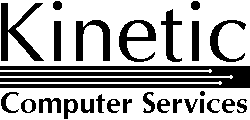 Information Technology (IT) consultants for businesses

Clients
Kinetic Computer Services works with clients of all sizes, from one person on up. Our clients are of all kinds, from professional offices to institutions such as churches and schools, to plants and manufacturing.
Regardless of who you are, or how big you are, our goal is to make you feel like you are our most important client.

Small businesses usually don't have anyone on staff to do troubleshooting of problems, and don't have time to research what kind of equipment or software to buy. They usually need advice for figuring out the best way to do things, such as how to back up their data, how to work from home, or what kind of e-mail system to use. For businesses like this, we will evaluate your whole situation, including things you may not be thinking of, like battery backups. We will offer solutions that provide very high relability and give you the most bang for your buck over the long run. We know money is tight, but sometimes spending a little more up front will pay off in just a few months with reduced maintenance costs and downtime.

Medium-sized businesses usually have someone to do first-tier troubleshooting, but that person may need help from time to time. They may have certain areas of IT taken care of, but they need a vendor to help with a specific need, like network scan & print, or bringing in a second internet connection. For these businesses, we will be glad to work with you, your existing staff, and your other vendors within whatever boundaries you set. We don't come in with a "you need to replace everything and do it our way" attitude.

Large businesses usually spec and procure all of their own equipment, and just need someone to install it in their branch office. Or, they may need a local pair of eyes and hands to diagnose a problem. They need someone who can work with the users in the local office as well as coordinate and communicate with the corporate IT staff at the home office. They need someone prompt, reliable, and experienced who can not only follow directions, but can also improvise, if necessary. They need Kinetic Computer Services.
Client Testimonials
Here's what some of our valued clients have to say for themselves about us and our senior consultant, David Carson:
Advanced Hearing Center
Audiology
Size:
11 employees in Sugar Land
Client since:
2022
Services:
New server and desktop hardware and software, remote maintenance
"When I needed to replace some older computers and servers in my office, I talked with many IT vendors and was discouraged that they all wanted to do a big overhaul of everything and get me on a monthly service contract. David Carson of Kinetic Computer Services was the only one who was able to replace only the things I wanted replaced and who offered pay-as-you-go support. He migrated my legacy applications to the new equipment and did the entire job with surprisingly little disruption to my daily operations. He answers his phone, and when he says he's going to take care of something, he does." - Dr. Terry Snook, owner
Micah Management
Business management consultant
Size:
4 employees in Houston
Client since:
1998
Services:
Internet connectivity, file server, network print & scan, data backup, anti-virus
"For the past 17 years, David with Kinetic Computer Services has advised our company on the proper networking equipment and software and has installed and maintained our systems in a most efficient and professional manner. Due to his expertise and knowledge, once David installs a system, a service call is a rare occurrence. When we do have an issue, or we need updates or maintenance, David is on site promptly and the matter is resolved quickly and correctly. The result is our office operates more efficiently, with very little or no down time. I highly recommend his services." - Tina Roberts, CPA
Texcast Inc.
Manufacturing
Size:
15 employees in Houston
Client since:
1998
Services:
Internet connectivity, file server, data backup, anti-virus, web site
"I use David because I trust him and he's dependable. If a problem crops up, he follows through and takes care of it until it's finished, instead of leaving it halfway done and moving on to his next job." - Gary Hinds, owner
Abby Executive Suites
Executive Offices
Size:
75 employees in Texas and Louisiana
Client since:
1999
Services:
Internet connectivity, file server, e-mail, terminal server, network scan & print, remote assistance, data backup, wi-fi, anti-virus, backup power
"First and foremost, David does what says what he's going to do. He doesn't overcommit and underdeliver. I like his attention to detail, such as the follow-up call I receive when he's leaving a job, explaining the cause of the problem, how it was repaired, and how we can prevent it from happening again. He is more interested in things working and working well in the long term than in leaving it halfway done and generating repeat business doing short-term fixes. David supports our company's mission to deliver good customer service. I feel like Kinetic Computer Services is part of our team, and not just a vendor." - Karen Hatler, General Manager of Technology